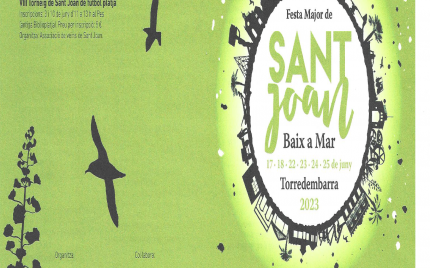 Festival of Sant Joan
2023/06/17 09:00

-

2023/07/02

A consultar
Annual Festival of
SANT JOAN
Baix a Mar
17 - 18 - 22 - 23 - 24 - 25 of june
Torredembarra
2023
Saturday 17th of June
at the beach of Baix a Mar
Saint Joan's Tournament of Beach Tennis.
Organised by: Beach Tennis Torredembarra
at the beach of Baix a Mar
Saint Joan's boat race of Llagut Català, Entities trophy. Semifinals.
Organised by: Rowing association - Oarsman's of Baix Mar of Torredembarra
in Antoni Roig i Copons square
Low-cost dinner. Tickets advanced sales 3rd and 10th of June from 11am to 1pm, at Pes (price for members: 10€, no members: 15€)
When the diner is finished, concert of Dantuvi and dj Xart.
Organised by: Neighbordhood Association of Sant Joan
Sunday 18th of June
at the beach of Baix a Mar
Saint Joan's Tournament of Beach Tennis.
Organised by: Beach Tennis Torredembarra
at the beach of Baix a Mar
Saint Joan's boat race of Llagut Català, Entities trophy. Finals.
Organised by: Rowing association - Oarsman's of Baix Mar of Torredembarra
Thursday 22th of June
in Antoni Roig i Copons square
Presentationof Reculls de Treballs 21 of Sinibald of Mas organised by Josep Santesmases. President of the Catalan's lenguage studies coordinator and Vice president second of Ramon Muntaner instutute.
Organized by: Sinibald Studies Center of Mas and Neighbordhood Association of Sant Joan
Friday 23th of June
in the church of Baix a Mar
Rocket launch organised by Ball de Diables of Torredembarra.
in Colom's Promenade
Performance of the Sardana dance with the grup Cobla Reus Jove and reception of the Canigó flame organised by Sardana's group of l'Antina.
at Antoni Roig i Copons square
Announcement-tribute organised by the bull chefs of Baix a Mar.
in Colom's Promenade
Fire party: Lighting the fire, Ball de Diables performance and Eve.
At the Cal Bofill garden, dinner with botifarra, coca of Sant Joan and beverage (price 6 €).
Organised by: Ball de Diables de Torredembarra
at Cal Bofill's tent
Sant Joan's open-air dance with the group Ready to Rock, the disc jockey Yxor and the group Waikiki
Saturday 24th of June
in the streets of Baix a Mar
Mornings organised by Grallers de la Torre
in Sant Joan Baptista's church
Solemn Service with the presence of the choir Santa Rosalia
in Josep Valls Ibern square
Performance of the dance Ball de Diables (kids), the Little Eve, the Serrallonga, the Mulassa, the dance of Bastons, the dance of Pastorets, the dance of Gitanes, the Dwarfs and the Giants Joan, Rosalia, Marina and Antoni
in Josep Valls Ibern
Castellers performance with the Castellers of Altafulla, Castellers of Mediona, Group Castellers Xiquets de Torredembarra and the Nois de la Torre
in Cal Bofill's tent
Concert and dance organised by orchstra La Chatta
At 1:30am in Cal Bofill's tent
Party with the disc jockeys Alex Montes, Joan Marco and Mdmiret


Sunday 25th of June
at the sunshade of Pes
Ches tournament
Organised by: Chess club of Torredembarra
in Cal Bofill's tent
Show with bubbles and foam party.
in Colom's promenade
Havaneres dance organised by the Port Bo and Rom cremat (price: 1 €)
At 11pm, at theBaix a Mar beach
Fireworks show, organised by Pirotècnia Igual

Other events:

Sunday 2nd of July
at the Baix a Mar beach
VIII Sant Joan's tournament of beach soccer. Registration: 3rd and 10th of June, from 11am to 1pm in Pes (former beach-library). Price per registration: 5 €
Organised by: Neighbordhood Association of Sant Joan